Vouchers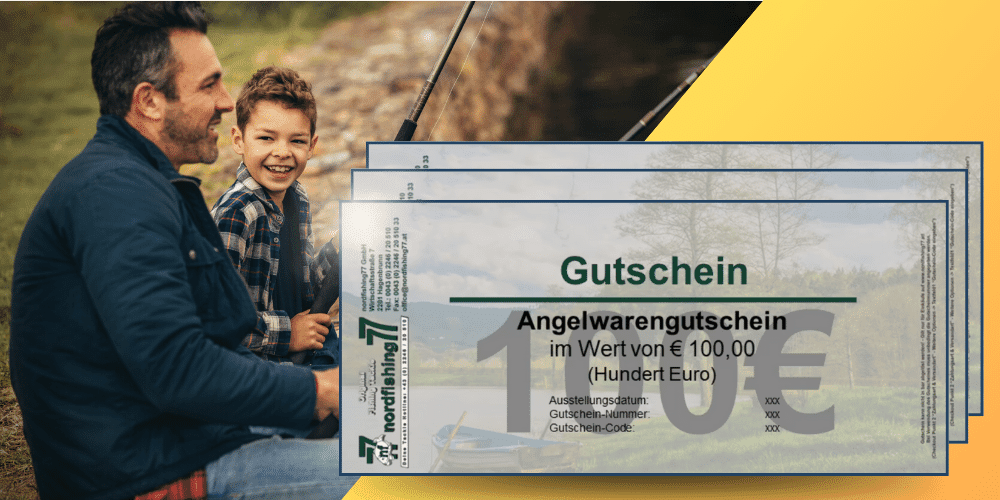 Whether it's for a birthday, Christmas, passing an angling exam, or simply without any special occasion: the nf77 fishing voucher is always the perfect gift idea!
Vouchers can be purchased just like regular items in our online shop. After a successful ordering process, you will receive an order confirmation via email, as with every order.
Bedingungen:
Gutscheine aus dem Online-Shop können auch nur im Online-Shop eingelöst werden
Es kann nur ein Gutschein pro Bestellung eingelöst werden
Gutscheine können nicht in bar ausbezahlt werden
Eingelöste Gutscheine dürfen den Bestellwert nicht überschreiten
Wird der Gutschein allein erworben, fallen keine Versandkosten an Dieser wird dann per E-Mail verschickt.
Wird der Gutschein in Verbindung mit anderen Artikeln bestellt, fallen die normalen Versandkosten an.
Sollten nur Gutscheine bestellt werden, so wird kein Geschenk ausgeliefert - bitte kein Geschenk beim Checkout auswählen.
Nachdem du beim Checkout deine Versanddaten eingegeben und deine Zahlungsart ausgewählt hast, hast du ganz unten auf der "Bestellung abschließen-Seite" die Möglichkeit, die Gutscheinnummer einzugeben.
Der Gutschein kann nur auf den Wert der bestellten Ware angewendet werden. Es fallen noch die normalen Versandkosten an.

Solltest du mehrere Gutscheine einlösen wollen, bitte die erste Gutscheinnummer in das dafür vorgesehene Feld eingeben und die weiteren Gutscheinnummern in das Feld "Kommentar" beim Checkout einfügen. Nach erfolgreicher Prüfung ziehen wir die Gutscheine von der Bestellsumme ab und senden dir die bearbeitete Bestätigung zu.